We have exciting news!
We were awarded £500 by the Aberdeen Greenspaces Board to create a wildlife garden in the school grounds.
Today P5/6 went out to see the area we plan to use.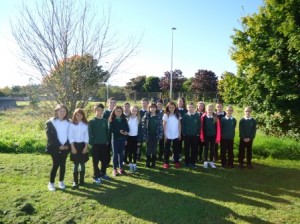 At the moment the area is left untouched.  We plan to add lots of features to attract wildlife such as frogs, birds, butterflies, bees and even hedgehogs!
The children came up with lots of ideas and are going to start planning what the garden will look like.
You can share your ideas with us as well.  Just hand in any ideas or plans to the ECO committee members or Mrs Walker.
There are some wonderful ideas on the RSPB website- Give Nature a Home in your Garden.  Maybe try out some of their ideas over the holidays and let us know how you get on.
https://ww2.rspb.org.uk/makeahomeforwildlife/givenatureahomeinyourgarden/  
(Visited 311 times, 1 visits today)